Regular price
$50.00 USD
Sale price
$50.00 USD
Unit price
per
0% OFF
Sold out
Get 25% OFF. Add item to cart.
Please allow for an order processing time of 1 to 2 weeks for your order to be shipped out.
Welcome to Steam Up, a world-renowned Dim Sum restaurant best known for its top 5 most popular Dim Sum:
Juicy Shrimp Dumpling, tender Meat Dumpling, soft and fluffy BBQ Meat Bun, flavorful Sticky Rice, and exquisite Phoenix Claw.
Be prepared to compete as one of 12 animal characters to devour as much as possible and leave with the fullest stomach!
See details about the Deluxe Edition (sold out).
2-5 players

40-60 mins

Age 8+
Components

• 75 Dim Sum
• 18 Steamers
• 50 Food tokens
• 1 Turntable
• 26 Fate cards
• 50 Fortune cards
• 12 Animal scoring markers
• 2 Feast Zone indicators
• 10 Feast Zone markers
• 1 First player marker
• 5 Reference cards
• 1 Lucky die
• 1 Steamer counter
• 12 Animal boards
• 1 Score board
• 1 Dim Sum bag
Credits

Game Design: Pauline Kong, Marie Wong, Haymen Lee
Illustration: Tim Cheng, Grace Tjahyadi, YDXart
Development: Pauline Kong, Marie Wong
3D Design: Jose Hsu
Animal stories: Sabrina Tang, Jason Chan
Editing: Jeff Fraser, Jonathan Liu
Specials Thanks: Our Kickstarter backers for their incredible support
View full details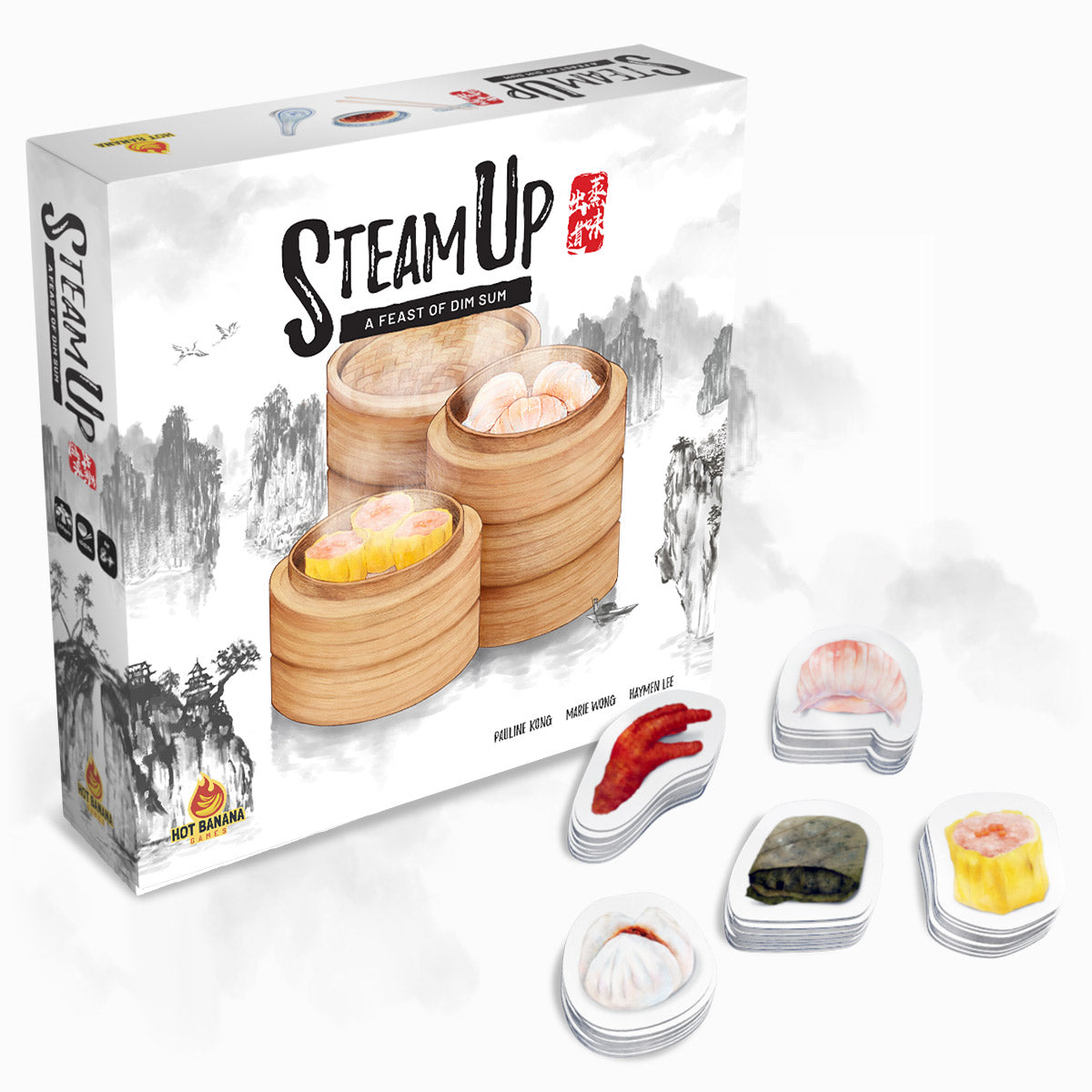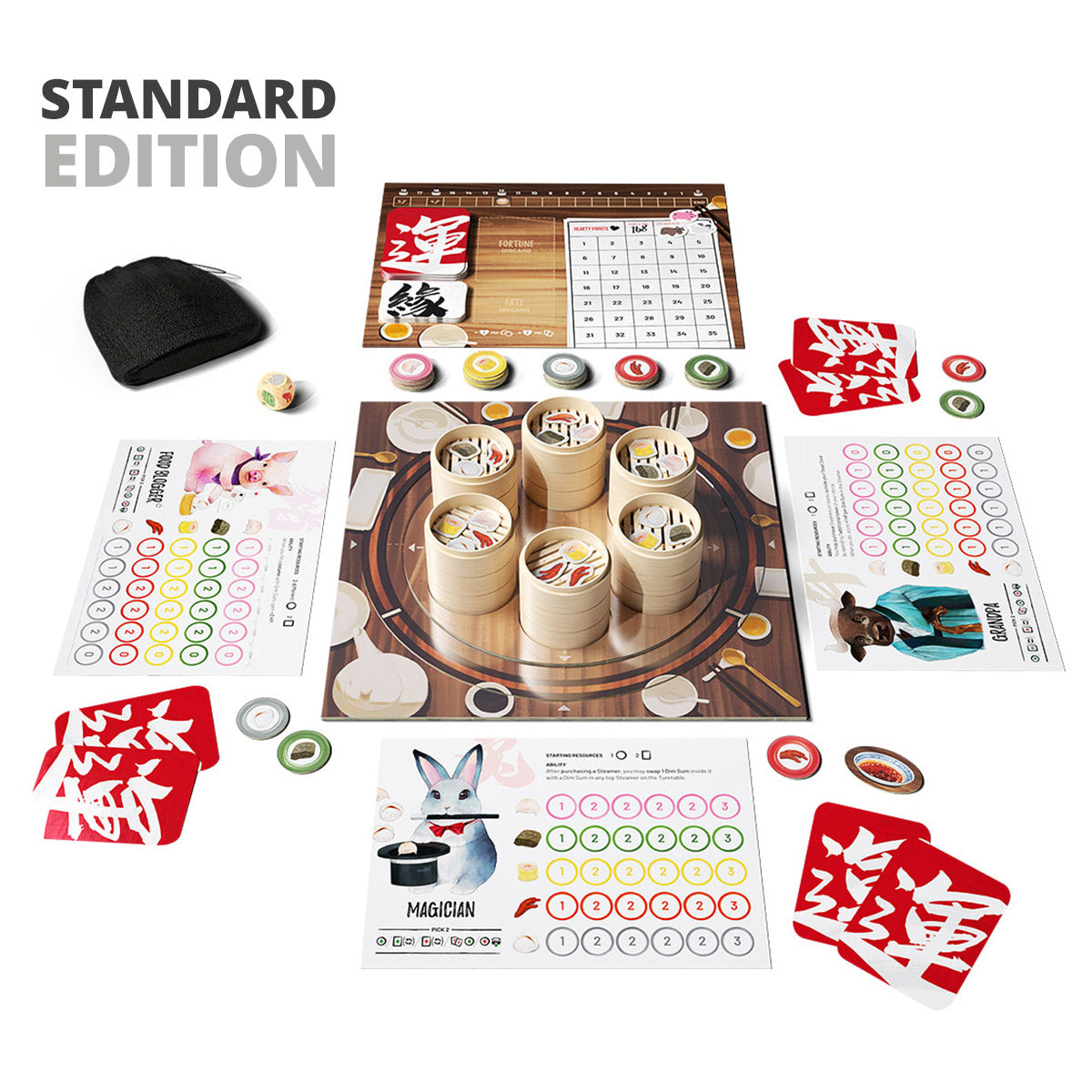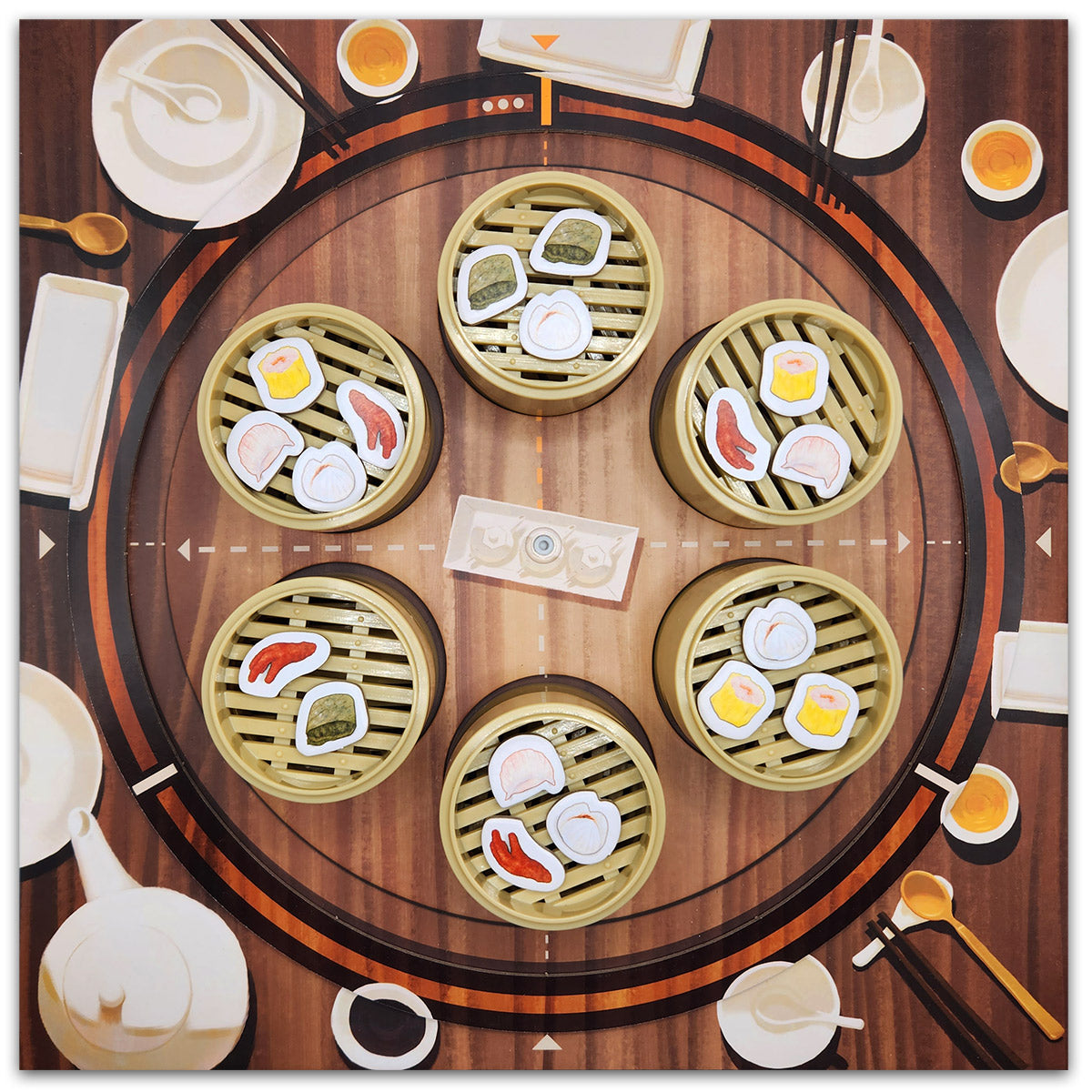 Enhance Your Steam Up Experience
With these Steam Up accessories & upgrades!
Frequently Asked Questions
What are the differences between Standard and Deluxe Edition?

The Deluxe Edition includes everything in the Standard Edition with the below upgrades/additions.


Upgrades:

• 12 Animal boards (Standard: cardstock / Deluxe: cardboard)
• 1 Score board (Standard: cardstock / Deluxe: cardboard)
• 1 Dim Sum bag (Standard: plain / Deluxe: double-sided silkscreen design)

Additions:
• Linen spot UV embossed box cover
• 75 Dim Sum squishies
• 12 Wooden animal scoring markers (meeples) with double-sided silkscreen design
• 1 Wooden steamer counter
• 1 Wooden first player marker
• 1 Illustrated cardboard insert
How many players?

Steam Up supports 2-5 players.
How long does the game play?
What are the 12 Animal characters?

Steam Up features the 12 animals of the Chinese zodiac: Rat, Ox, Tiger, Rabbit, Dragon, Snake, Horse, Goat, Monkey, Rooster, Dog, and Pig.

Each animal character has their unique traits, abilities, and taste for Dim Sum.
Are chopsticks allowed to be used when playing Steam Up?

While playing Steam Up does not require chopsticks, you can use them if you wish.
I have another question that's not answered here

Please submit your questions on our contact page or email us at contact@hotbananagame.com. Our support team will be happy to help!